Getting the Most from your Mailing Lists
A Mailing List is the most efficient way to contact your customers, for any reason. You may want to inform them of a specific upcoming auction. Or alert your best consignors of the yearly consignment sale in 3 months. Regardless of reason, the maintaining comprehensive mailing lists is a great tool for driving more business.
The Advanced Mailing List Builder
The Advanced Mailing List Builder has tabs that enable you to create mailing lists based on various criteria. These criteria can be used in combination to target your audience for specific auctions or in general to separate your returning or active customers from those that have not attended an auction over a period of time. Target your buyers by sorting for keywords, inventory types purchased, or purchase volumes for a period of time.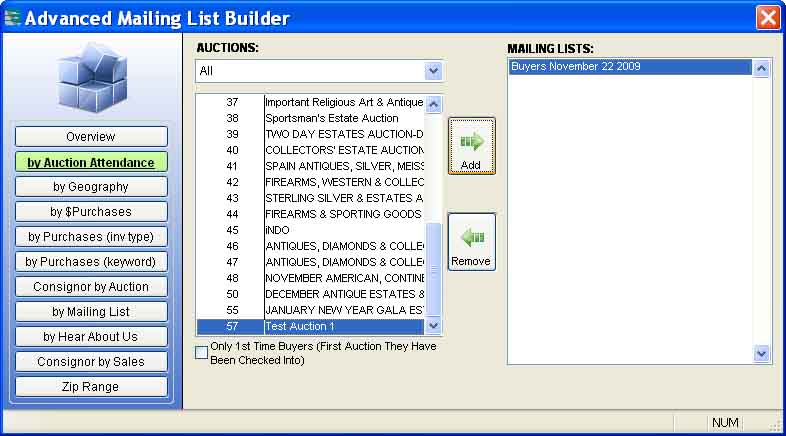 E-Mail or Snail Mail
The Auction Flex mailing list feature can be set to automatically send Emails through your E-Mail client (Outlook, Outlook Express, Thunderbird, etc). The option to print directly on flyers, envelopes or labels is also available. With many options for sorting customers for E-Mail addresses, duplicate entries and physical addresses, Auction Flex will make sure your advertising dollar is not wasted.
How Did you Hear About Us?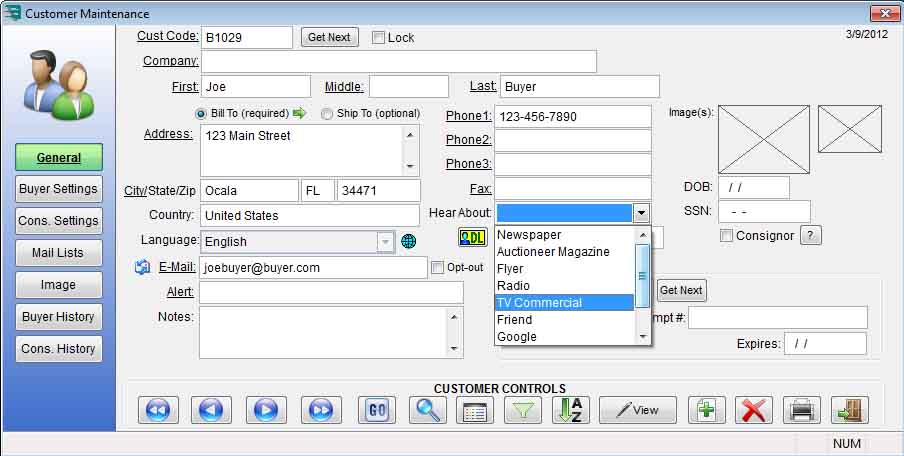 The Hear About Us field is completely customizable based on the advertising used by your company. This drop down menu in the customer record may be changed from auction to auction. This provides excellent information regarding how new customers are finding you as a business on an auction by auction basis. Printing these reports will assist in determining which means of advertising are working better than others. If you have any questions regarding this or any other feature please Contact Us!